We Are Hiring
For more information on the roles available, click here.
The Blue Bicycle - Neston | Wirral | Cheshire
A Little Bit About Us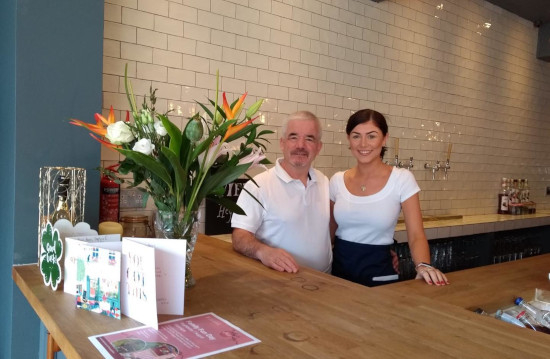 This is a true family venture! Paul, with over thirty years' experience in catering – including head chef at a Chester hotel, is keen to bring his culinary skills to the town where they live.
Paul's daughter Sophie, also with several years' hospitality experience, will very likely be the first smile you see when you step through the door.
Paul's wife and son, Ann and Daniel, will also be working in the background to make this the success they all dream of.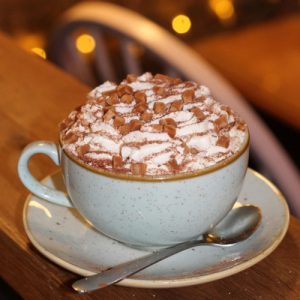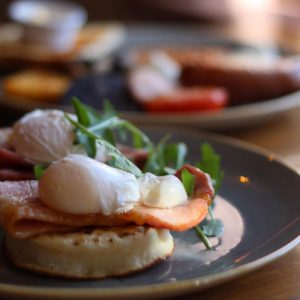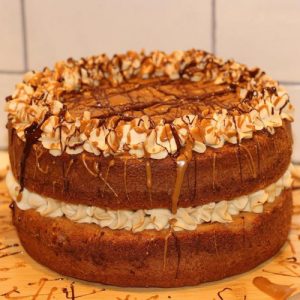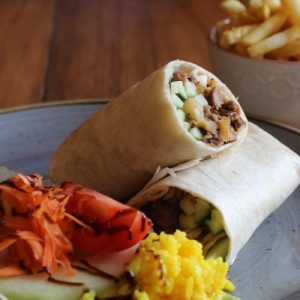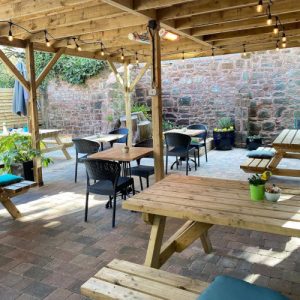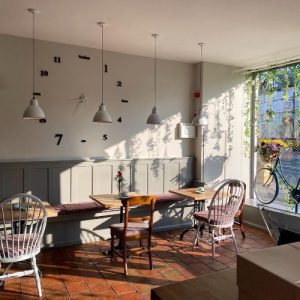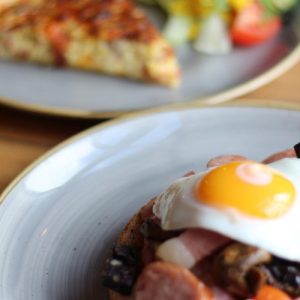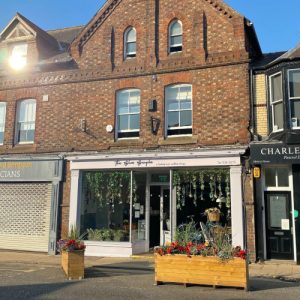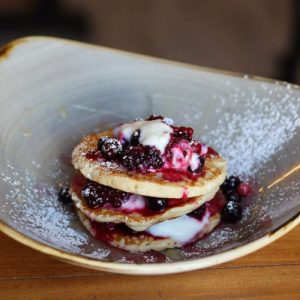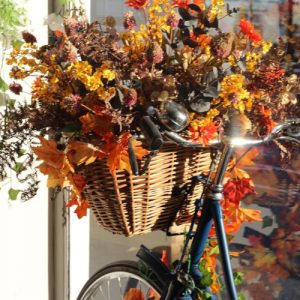 Upcoming Events
Saturday 4th November & Saturday 2nd December
The Blue Bicycle is teaming up with Taste Together this once again in November & December to bring you two more wine tasting events! We could not be more excited! Sit, sip and savour in the beautiful blossom of The Blue Bicycle this summer; a family-run bistro that delivers delicious dishes too! Click the button below to view and book your tickets!
What We Do Best
We are here to welcome you every day of the week from 9am right through until 5pm.
Whether you prefer our heated and sheltered outdoor courtyard or the relaxing atmosphere inside our shop spread over two floors, we have something for everyone. Our first-floor room is the ideal venue for a special event such as baby showers, birthday celebrations or family gatherings.
We also offer an afternoon tea menu that can be pre-booked, click here for a sample menu, and get in touch to find out more information or make a booking. 
Don't forget, we always have takeaway too!
The breakfast bloomer
A mixed full breakfast on a bloomer crust topped with a fried egg
Open steak ciabatta
Served with garni & béarnaise sauce
Chicken, chorizo & mozzarella ciabatta
With a marinara sauce
Homemade quiche of the day
Served with a side salad garnish, ask our team for today's quiche
Toasted club sandwich
Chicken, bacon, lettuce, tomato & mayonnaise
Baked ciabatta with feta cheese, roasted red pepper & pesto
Sweet chilli halloumi, red pepper & onion toasted sandwich
Warm chicken, mozzarella & pesto toasted sandwich
Warm brie, bacon & cranberry ciabatta
Tuna & cheese baked ciabatta
Sandwiches served on white, granary or gluten free bread
- Tuna mayonnaise and cucumber -
- Cheddar cheese and onion chutney -
- Egg Mayonnaise -
- Ham and tomato –
- Hummus with onion and tomato -
Add a cup of soup to your sandwich
Soup of the day
Served with warm ciabatta, ask our team for today's soup
Warm breast of chicken Caesar salad
With little gem lettuce, tomatoes, bacon & Caesar dressing
Sundried tomato & spinach quinoa
On a bed of mixed leaves with a balsamic dressing - add feta
Halloumi, rocket & mango salad
Served with a sweet chilli dressing
Prawn Marie Rose salad
Served with brown bread
Mini English breakfast
Bacon, fried egg, sausage, beans & toast
Crumpets with strawberry jam & butter
Scrambled egg & beans on toast
Boiled egg & soldiers
Porridge & honey
Add blueberries
Sandwiches served on white, granary or gluten free bread
- Tuna Mayo -
- Ham -
- Jam -
- Cheese -
Fish fingers, baked beans & fries
Sausage, baked beans & fries
Kids soup of the day
Childs Hot chocolate
Soya, almond & oat milk options
Add cream add marshmallows
Add caramel, vanilla, hazelnut, chai or coconut syrup
Selection of juices
- Cranberry -
- Orange -
- Apple -
Cordial & water
- Blackcurrant -
- Orange -
Babycino
Coffee
- Americano -
- Cappuccino -
- Latte -
- Pumpkin Latte -
- Flat White -
- Mocha -
- Double Espresso -
- Macchiato -
- Chai Latte -
- Dirty Chai -
- Iced Latte -
- Iced Americano -
- Iced Mocha -
Soya, almond & oat milk options
All coffees available as decaf on request
Add caramel, vanilla, hazelnut or coconut syrup
Loose Leaf Tea
- English Breakfast -
- English Breakfast Decaf -
- Earl Grey -
- Chamomile -
- Peppermint -
- Tropical Green -
- Lemongrass & Ginger -
- Berry Wellness Organic -
Hot Chocolate
- With Cream & Marshmellows -
Soya, almond & oat milk options
Add caramel, vanilla, hazelnut or coconut syrup
Soft Drinks
- Coke / Diet Coke -
- Fentimans Ginger Beer -
- Fentimans Rose Lemonade -
- Fentimans Dandelion & Burdock -
- Soda -
- San Pellegrino Orange or Lemon -
- Cranberry, Orange or Apple Juice -
- Still or Sparkling Water -
- Blackcurrant, Orange, Lime or Elderflower Cordial -
Wine
- Sauvignon Blanc 12.0% – Chile -
- Pinot Grigio White 12.0% – Italy -
- Pinot Grigio Blush 12.0% – Italy -
- Merlot 13.0% – New Zealand -
- Pinot Noir 12.5% – Romania -
Prosecco
- Prosecco la Gioiosa et Amorosa NV DOC Treviso -
- La Marca Prosecco Extra Dry 200ml -
- Mimosa -
Beer
- Peroni 5.1% 330ml -
- BrewDog Hazy Jane IPA 5.0% 330ml -
Only The Finest Coffee
Ginger Cat are obsessive about coffee. All they had to do, was come up with a company name and what better inspiration could there be than their two lovely cats, one of which is ginger (called Keith) and the other is called Buddy. So Ginger Cat Coffee Company was born with their house 'Buddy' blend! On our first tasting, we instantly knew this was a partnership that was a perfect match for us.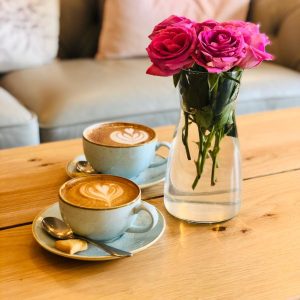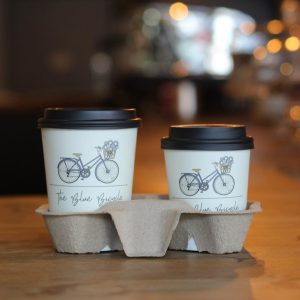 For That Special Occasion
Whether it's a birthday, wedding or you're just looking for a treat – our online store has some of our best bakes for order and collection. All orders must be made with at least 48 hours' notice, and we will always aim to customise orders to meet your requirements, please get in touch with us prior to ordering if you have any special requests.
Shopping Basket
Get In Touch
If you have any questions about our services or want to book an event, just send us a message using the form below. Or if you just want to keep up to date, follow us on social media!
Directions To Us